Human Resource Solution Business
Personnel with expertise in manufacturing and production working successfully in Japan and other regions in Asia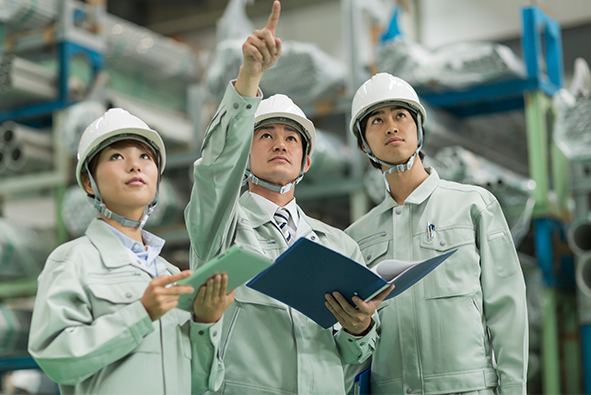 Business Fields
General manufacturing services in Japan and overseas
Manufacturing business (contracting, staffing and recruitment services)
Production engineering business (contracting, staffing and recruitment services)
IT and design development engineering business (contracting, staffing and recruitment services)
Technical service business (various repairs, rework and analysis / general customer services)
Logistics service business (3PL / flow surface processing / staffing)
Contract education/training after entering Japan for technical interns and business support for companies accepting interns concerning the technical intern training program for foreigners
Business Overview
Global support system
For assisting customers in overseas production
The nms Group has set up 63 operational bases in 9 countries, including China and the members of the Association of Southeast Asian Nations (ASEAN). The nms Group has established a cost-competitive and high-quality production structure by aligning those bases in Japan and overseas. Moreover, the nms Group has set up systems compatible with legal structures in various countries and regions to meet the diverse demands of its customers. As a new initiative, the nms Group established the Japan Technical Education Organization (JATEO), a company that trains technical interns from overseas, in 2017. The JATEO is training technical interns from overseas in response to the demands of parties that receive them at a facility for post-entry training it set up to achieve the goal of their early conversion into reliable workforce. Meanwhile, the nms Group has been commissioned to perform tasks related to the receipt of technical interns from overseas, such as general affairs, personnel affairs, labor management and welfare. The nms Group is offering original solutions that comprehensively support both interns and parties that receive them.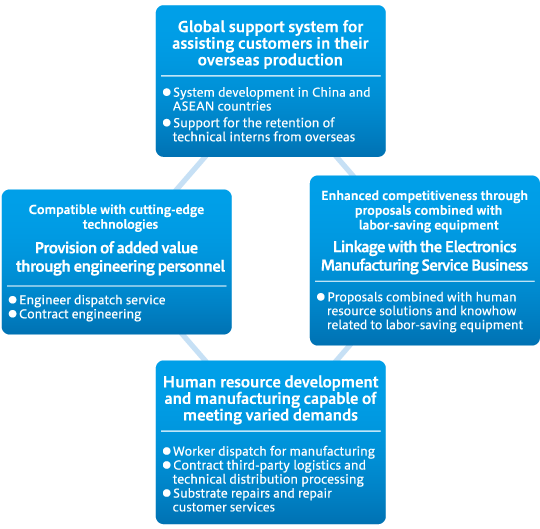 Supporting business entities that accept overseas human resources in diverse ways
Lateral Roll-out of EMS Business Expertise
Contributing to improvement in quality and greater stability in overseas manufacturing through proposals that combine staffing service and labor-saving devices in the ASEAN region
The nms Group provides total solutions that integrate overseas human resource solutions with design and manufacturing expertise developed in our EMS Business.
We established a base in Vietnam in 2016 as a contract manufacturing plant for the overseas Human Resource Solution Business. This plant mainly manufactures automotive parts on contract and is using labor-saving equipment to increase production efficiency. We are also expanding the scope of contract services to quality control, inspection services, and other services.
More specifically, the nms Group is achieving consistent quality control and responding rapidly to the movement of production overseas by customers through substantial reduction in worker hours required in processes that previously required visual inspection.
The labor-saving equipment business is receiving an increasing number of inquiries in Vietnam and China as well. The Group is also rolling this business out to Thailand and is supporting consistent overseas production by customers.
We are expanding our training system to local employees and are developing highly proficient human resources to further improve the quality of contract manufacturing.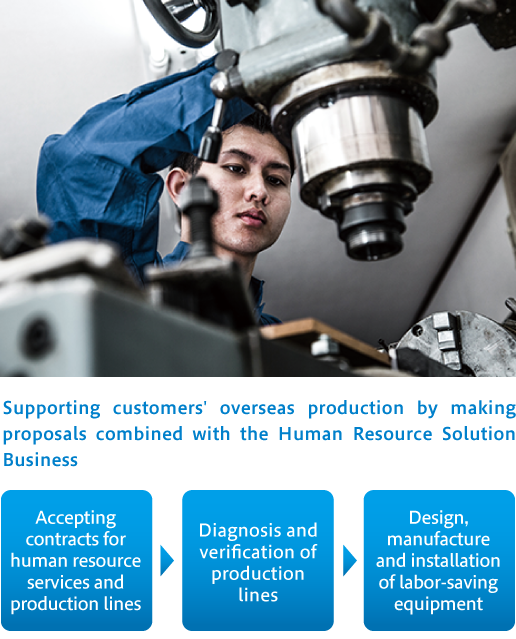 Human resource development and manufacturing capable of meeting varied demands
Worker dispatch for manufacturing
The nms Group has built a mobile production structure for operations ranging from the training of personnel with expertise in advanced technologies and production job sites to their dispatch. The nms Group achieves both quality and price competitiveness by aligning business facilities in Japan and overseas using its network.
Engineer dispatch service・Contract engineering
The nms Group helps to speed up development by dispatching design and development engineers. The nms Group is employing an increasing number of foreign engineers to meet diverse demands.
Offering logistic and repair services, making use of its know-how on worker dispatch for manufacturing and contract manufacturing
Contract third-party logistics and technical distribution processing
The nms Group offers innovative services in which the knowhow of third-party logistics and technical services and its achievements in those services are combined. The nms Group also responds to the development of efficient distribution routes and advanced processing in the physical distribution of electronic devices.
Substrate repairs and repair customer services
The nms Group offers total solutions related to repairs that cover components management, repair and after-repair services and delivery.