Electronics Manufacturing Service Business
Supporting the Move to Fabless in the Manufacturing Industry with Our Mobile Power – from Design and Mounting to Logistics and Repair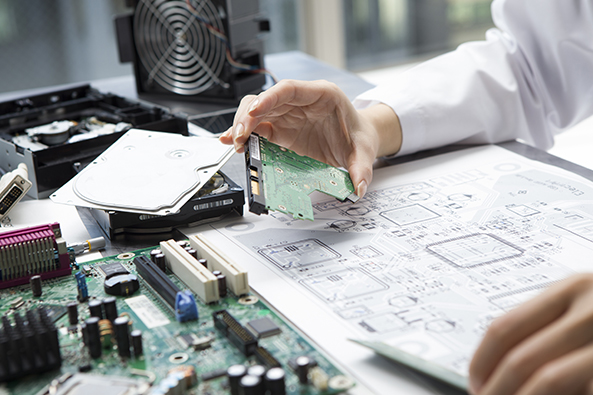 Business Fields
Electronics Manufacturing Service business (substrate mounting, substrate assembling, simple pressing, resin molding, assembly, etc.)
Electronic device repair service
Design, development and manufacture of automotive-related equipment and parts
Business initiatives shared with the customer, and design, development and sales efforts related to such
Startup solutions business
3D Printer business (design, manufacture, sales, repair and maintenance)
Business Overview
Giving Shape to the Needs of Our Customers with Mega EMS and Custom-made EMS
The TKR Group has remained committed to manufacturing that can be differentiated since our foundation in 1954. Today, we have expanded our business to 10 locations in six countries: the U.S., Mexico, Vietnam, China, Malaysia and Japan. We are continuing to evolve day by day – from design to manufacturing and sales as well as design support, repair support and other manufacturing services – while being supported by our many and wide-ranging customers.
All the services and products we provide start with listening to what our customers have to say.
We have built partnerships with many customers in Japan and overseas by repeatedly proposing and providing the things they need in an even better form.
We are aiming for mega EMS in developing countries – in other words, to realize mass-produced products with Japanese quality at even lower prices. We are then looking to give shape to the needs of our customers with custom-made EMS in mature markets.
Developing Sharing Business with Our Customers Globally
The sharing business is extensive. We can also undertake just the ordering operations or just the import/export operations of our customers. This is a service we can provide because we have built up expertise and developed infrastructure in design, manufacturing and manufacturing services over many years.
We are able to supply a wide range of services including mounting, precision pressing, plastic molding, assembly and repair operations. This allows us to realize a one-stop service solution. This is a strong point of the TKR Group. We have satisfied many customers with this.
The R&D team in our Chinese location can provide services from trial manufacture to design at less than half the cost of that in Japan.
We can propose solutions useful in commercialization for start-up companies even if the production quantity is small. This is our strength.
Offering multi-faceted support for meeting the needs of total contracting, from design to production
Functions and roles of each operational base of TKR Corporation
Mega EMS in developing countries: Malaysia, Vietnam and Mexico, in business fields where high reliability is demanded, for small-lot and multi-item production systems (onboard equipment, industrial equipment, etc.)
Custom-made EMS in the matured market: China (Dongguan), in business fields where design and development capabilities and cost competitiveness are demanded, for mass-production systems (digital consumer products, etc.)
To enhance these functions, an R&D Center for conducting operations that include product design has been established at the operational base in Dongguan, China.
Development of the sharing business and start-up solutions with our customers by linking up our Japanese and overseas locations